Welcome Students & Families!
San Clemente High School Drama is an award-winning performing arts program where students receive a top-notch arts education in both Theater Performance and Stagecraft.
Each academic year, the program produces: two mainstage musicals, one straight play, one holiday revue and one coffee house revue. Drama courses are offered during the school day. Additionally, our program offers a variety of activities in which students can become involved including: the OC Cappies, Improv, Drama Club, and International Thespian Society.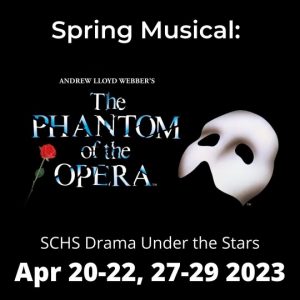 Thank you to all of you who came out for Phantom of the Opera.   You made our decision very difficult! We wish we could cast all of you who auditioned. Thank you for being passionate about drama and the arts.  If you didn't make the show this time, please come out for our next show in the fall and look for drama activities this semester to participate in.  Also – please consider joining the choir and drama electives. They are a wonderful way to hone your skills!  So proud of each and every one of you for giving your best!

Sincerely
Kirsti McCleary, Susanna Vaughan, Elan McMahan, Alex Schultz,  and Ella Wyatt
PHANTOM OF THE OPERA CAST and CREW LIST
PLEASE Review Calendars (subject to change) so you understand time and commitment needed.
Check out our student-produced video below: 
staff
Our Creative Team
CLICK NAME FOR FULL BIO